We Offer:
Edit Yourself
Easily modify your web site yourself using a Word-style interface.

Easy Upload
Upload your own images, documents, and more with our simple interface.

Fast Support
Being a small company means we get back to you with support in a timely fashion.
Random Project Highlight
thePathway.ca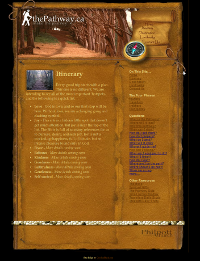 thePathway was a Christian discipleship site I wrote while working at Philpott Church, in Hamilton, Ontario. It was unique in that it used the metaphor of a journey to describe the four stages of...
[more]
Web Packages
About Web Site Costs
Common Price Points
You may have noted the hesitance of other developers to be specific about their prices. Like most things, prices depend on many different factors, and so these are generalities. If you want a specific price for your unique needs, please contact me with your details.
1. Essentials ($1000):
A basic web site that includes the following:

Site design
Web hosting ($100 a year- first year included)
Up to 10 pages
Basic Content Management
Contact Form
2. Extras ($2400):
A more elaborate web site that might include the following:

Site design
Web hosting ($100 a year - first year included)
Portable style sheet for phones and tablets
Possibly a security certificate
More Advanced Content Management
Social Networking Integration
Contact Form
Extras, for example a photo album, simple cart, or newsletter
3. Elite ($5000 or more):
A custom made site that could include a database with programmatic functionality

Extra features with potentially multi-user content management
Contact me with your details for an accurate proposal.
How Much Does a Web Site Cost?
General Cost Outline
Optional Features